News
5 Key Points to Choose Injection Molding Machines
Back


Injection molding process is a manufacturing process where molten material is injected into a mold. It requires an injection molding machine, raw materials and a mold. Plastics are one of the materials that are most used in making products that you can see and use every day such as bottle caps, automotive parts, toys, medical appliances, etc which makes this industry a big potential market to be developed and invested on.
According to the analysis report by Straits Research, the global plastic injection molding market size was valued at USD 11,385 million in 2021 and is anticipated to generate USD 15,734 million by 2030. Therefore, there is no doubt that the injection molding industry is worth investing in.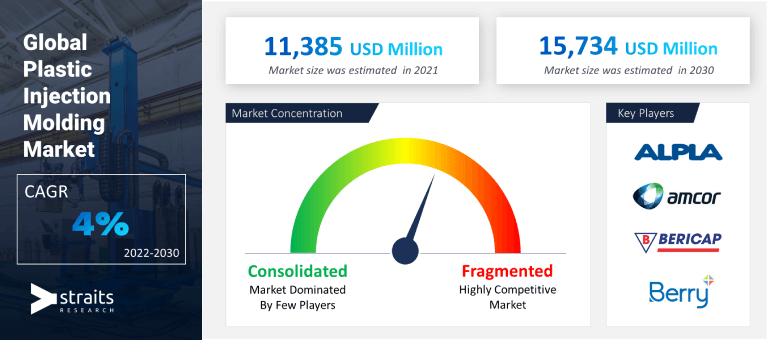 Analysis by Straits Research forecasts the market size by 2030 will increase to USD 15,734 million.
Types of Injection Molding Machines
We can classify injection molding machines by their configurations and movement of the mold, either in horizontal or vertical way. Both types have their pros and cons so the users have to choose well to get the most suitable machine type. In general, Horizontal Injection Molding Machines are the most common type of injection molding machine in the industry and market. They are ideal for cylindrical parts and used for high production while Vertical Injection Molding machines are more precise and ideal for insert molding processes.
So what are the key points to choose an injection molding machine? Here we will share with you 5 key points when it comes to choosing a suitable injection molding machine.
Material Used

First of all, you need to confirm the molded materials you plan to use: will it be single or multiple materials? The type of material(s) used directly links with the characteristics of the final products.

Size of the Final Products

The size of the final products is crucial as it directly dictates the size of the injection molding machines.

Volume of Production

Knowing the volume of production of the machine is essential to make sure the machine can really solve your problems rather than the opposite situation.

Machine Type

Since the development of the industry and technology, we have by far these three types of machines: hydraulic, electric and hybrid. You can choose the most suitable type of machine according to their features and costs.

Automation Ratio

The automation ratio of the machine determines the operation of the production line which has a lot to do with the cost control at the same time.
.Click here to do a quick check to find the most suitable solution.
Taiwan Kinki, Pioneer of Vertical Injection Molding Machine
Taiwan Kinki (TKC) as the earliest Vertical Injection Molding Machine manufacturer in Taiwan since their development in the year 1983, they accumulate past experience to create ingenious innovations in the Vertical Injection Molding Machine. They adhere to the corporate philosophy "Totally Knowhow for Customer". They not only enrich their expertise, their superb work team is always proud to standby anytime to be the greatest backup support for their customers no matter on quotation or technical consultation and guidance.
TKC starts with domestic sales, with the accumulation of 39 years industry experience, their products are now exported to the world including Southeast Asia, Japan, Europe, North America and South America. This stems from the superior, stability and reliability of their products.
Applications of Vertical Injection Molding Machines
With the steady and stable support of TKC's Vertical Injection Molding Machines, customers can manufacture various products especially they are ideal to produce products which consist of insert molding process. The applications of Vertical Injection Molding Machines can be classified into:
| | |
| --- | --- |
| Living Necessities | Spoon, pot handle, comb, toothbrush, interdental brush, power cable, sole, flip-flops, etc. |
| Tooling Equipment | Screwdriver, hammer, nail, handle of the tool, oil seal, etc. |
| Transportation Vehicles | Car door handle, manual gear, front door quarter / rear door quarter, safety pull ring, car safety buckle, car sensor cable, starter parts, bicycle pedals, etc. |
| Sports | Swimming goggles, snorkel, waterproof earplugs, spikes, golf ball, etc. |
| Medical | Blood collection needle, cardiac catheter, etc. |
Best Solution for Vertical Injection Molding Machine Manufacturer
TKC continuously improves R&D capabilities, enabling them to offer customers all types of Vertical Injection Molding Machines: hydraulic, electric, and hybrid.
TKC offers complete planning and consultation for their customers. It does not matter whether you have any experience in this industry. Generally, customers just need to provide samples or drawings of the products they want to manufacture, TKC will offer you the best solution which suits you the best and they do not have to worry about after sales service and maintenance.
Further readings:
All Electric Vertical Injection Molding Machine for a More Eco-friendly Future
High Quality and Experienced Injection Molding Machine Manufacturer
---
Source: PRM-Taiwan Blog: TAIWAN KINKI: 5 Key Points to Choose Injection Molding Machines
Our products are sold to major markets around the world including Southeast Asia, Japan, Europe, North America and South America....
Contact Info

Taiwan Kinki Machinery Co., Ltd.

No.180, Ln. 128, Sanmin Rd., Luzhou Dist., New Taipei City 247, Taiwan (R.O.C.)

Tel: +886-2-2281-3361~3 .+886-2-2282-6932 .+886-2-2282-8848

Fax: +886-2-2281-8206


E-mail: [email protected]

Mainland China Dong-guan Factory

Shajiao Phoenix Industrial Zone, Dongguan City, Guangdong Humen Town

Tel: +86-769-85563006

Fax: +86-769-85561472

Mainland China Ning-po Factory

No. 1, South Sea Rd., Dagang Industrial Area, Beilun District, Zhejiang Province, Ningbo City

Tel: +86-574-86805818

Fax: +86-574-86805819
Solutions for your needs
If you can't find the right machine,let us help you.