News
High Quality and Experienced Injection Molding Machine Manufacturer
Back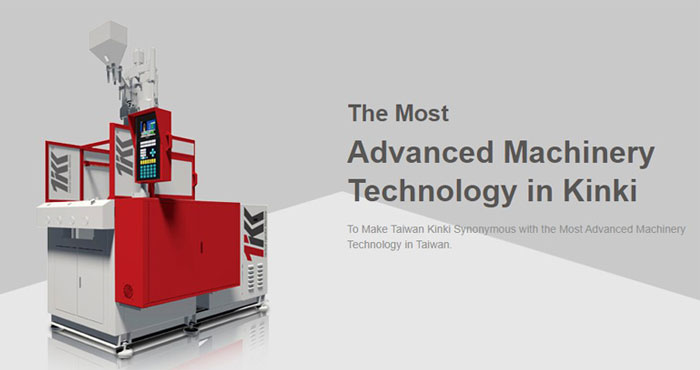 Nowadays, one of the main challenges for International buyers when they need to find new machines for their production is to find a reliable and trusted machine manufacturer, in order to assure their investment is worth every cent spent on it.
Taiwan is well known for their balance in price and quality machinery, one of the main actors in the Injection Molding Machine Industry is Taiwan Kinki, being one of the manufacturers with more experience. They are well recognized for their technology in insert molding. Thanks to their comprehensive global sales and product and service base, Kinki can provide customers with an outstanding service, this one of the main reasons they are the customer's best choice.
As an example of the previously mention about their good after sales service, nowadays the service bases have the following standards:
One year warranty for parts.
Provide 24 hours to regular maintenance services in most areas
The main factory arranges engineers for each agent one time every 6 month for global service.
It is well known that within the Taiwanese Market the Injection moulding machines manufacturer the differences are not wide, what it makes the difference between Taiwan Kinki and other manufacturers is the main technology in the mold. For Taiwan Kinki one of the main compromises with its customer relationships is to offer Stable and High-performance equipment, but also a fast service and customization on its machines.
Said that, International customers can be assured an amazingly time response in after sales support provided by Kinki, providing high levels of customer satisfaction.
Taiwan Kinki products includes different series of products such as:

▶ Vertical Injection Molding Machine - KT 300
Taiwan Kinki made their machines as customer request, for different regions, different customization, depending on labor requirements, different production capacity needs, Kinki machines offer different series which includes standard type, Single Slide Table, Double Slide Table and also Rotary table for customer choose according what they want to produce, but also offer product molds and full auto-system planning.
One question that comes to foreign customers is what kind of raw material are suitable to use on these machines, with Kinki Injection Molding Machines, this is not a trouble, since all thermoplastic material and thermoset material are able to be processed by Kinki Machinery.
This year, due COVID-19 the Plastics and Rubber Industry has been affected for different reasons, for Taiwan Kinki, this time has been a time to discover new markets, on which they are trying to develop market, like Poland in Europe, Sri Lanka and Cambodia in South-east Asia, even have realized some investment in some of this areas.
During these difficult times, Taiwan Kinki thanks to its expertise in market development has learned to recognize 2 different kinds of customers, those who are taking the opportunities and even expand their factories to buy fully automatic machinery. And in the other hand some customers that due the uncertainty of the coming future, are more conservative at the time to take decision to buy new machinery and equipment.
The continually success of Taiwan Kinki, make them have long term customers, during this time they have cooperate together, with some customers have over 16 years, giving the trust to Kinki Machines, which made some South Asia customers be the biggest supplier for big companies such as LG, Samsung, and others.
When it comes to the trends Taiwan Kinki has a clear direction they need to take, an example of this is the Smart Injection Molding machines which are the feature trend, MES system and ERP system is where they are putting their efforts in.
If you are interested in Taiwan Kinki Machinery, you can be assured have a long term partnership, trustable and experienced Taiwanese manufacturer and guaranteed customer service, for more information and inquiries, please contact us.
Source : PRM - Blog - Taiwan Kinki, High Quality and Experienced Injection Molding Machine Manufacturer
Our products are sold to major markets around the world including Southeast Asia, Japan, Europe, North America and South America....
Contact Info

Taiwan Kinki Machinery Co., Ltd.

No.180, Ln. 128, Sanmin Rd., Luzhou Dist., New Taipei City 247, Taiwan (R.O.C.)

Tel: +886-2-2281-3361~3 .+886-2-2282-6932 .+886-2-2282-8848

Fax: +886-2-2281-8206


E-mail: kinki@ms7.hinet.net

Mainland China Dong-guan Factory

Shajiao Phoenix Industrial Zone, Dongguan City, Guangdong Humen Town

Tel: +86-769-85563006

Fax: +86-769-85561472

Mainland China Ning-po Factory

No. 1, South Sea Rd., Dagang Industrial Area, Beilun District, Zhejiang Province, Ningbo City

Tel: +86-574-86805818

Fax: +86-574-86805819
Solutions for your needs
If you can't find the right machine,let us help you.