KT-R Series (ROTARY TABLE)
KT Series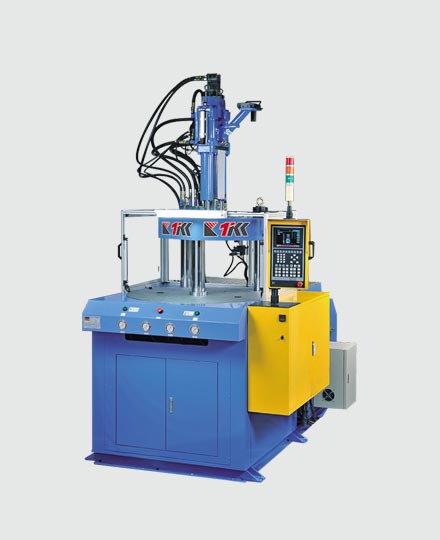 Features
Vertical mold clamping and injection machine, small footprint, and a high degree of precision. The injection molding machine is ideal for plastic and rubber injection of medium and small products with inclusions and inserts molding.
Dual-cylinder injection system offers high injecting pressure for fast operation, making this injection machine your best choice for production of thin items.
Direct-pressure mold clamp allows even injection force, and the relatively low pressure means maximum precision and an incredibly smooth cycle of operation.
Choose a platen or a rotary plate in accordance with the type of products to be injected, in order to achieve the best possible in feed and injection effects.
This machine offers a wide range of programmable functions including automatic inclusion, extraction and fully-automatic production.
There are also many other control systems that facilitate flexible production and keep costs low while maximizing precision.
End Products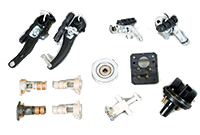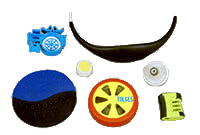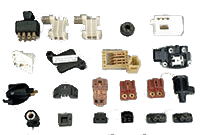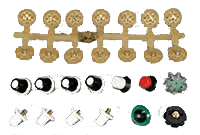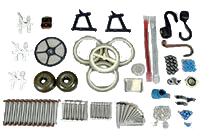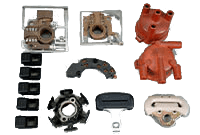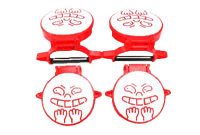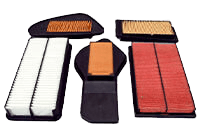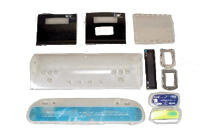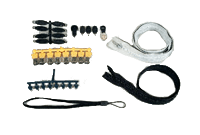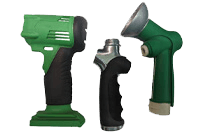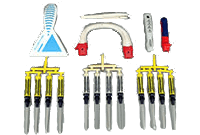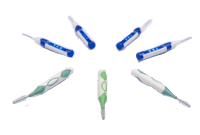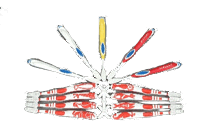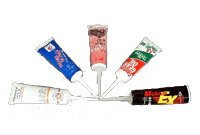 Specifications

Machine Type
Unit
Screw Diameter
mm
Injection Pressure
kg/cm2
Theoretical Shot Volume
cm3
Max. Shot Weight(PS)
g
oz
Injection Rate
cm3/sec
Screw Stroke
mm
Screw Speed Max.
rpm
Nozzle Contact Force
tons
Nozzle Retraction Stroke
mm
Number of Temperature Control
-
Material Hopper Capacity
|
KT-100-R
KT-200-R
KT-300-R
KT-400-R
KT-500-R
KT-600R
KT-700R
KT-800R
KT-900R
20
25
25
30
35
30
35
40
35
40
45
50
36
42
50
45
50
55
50
55
60
60
65
70
65
70
80
1715
1098
2509
1742
1280
2170
1594
1220
2171
1663
1314
1064
2436
1789
1263
2129
1742
1425
2688
2221
1866
1866
1590
1371
1855
1600
1225
31
49
59
85
115
99
135
176
135
176
223
275
183
249
353
349
432
522
471
570
678
678
796
923
995
1154
1507
29
45
54
77
105
90
123
160
123
160
203
250
166
226
321
314
388
469
424
513
610
617
724
840
905
1038
1356
1
1.5
1.9
2.7
3.7
3.2
4.3
5.7
4.3
5.7
7.2
8.9
5.8
8
11.3
11.2
13.8
16.7
15.1
18.3
22
22
25
30
32
37.3
48.8
27
42
36
52
71
51
69
90
98
125
159
196
92
124
177
129
160
193
148.3
178
212.5
247
291
336
193
224
319
100
120
140
140
180
220
240
240
300
0-205
0-190
0-175
0-250
0-180
220
0-160
0-140
0-126
4.4
2.4
2.6
2.9
3.3
4.2
6
6.2
6.7
150
180
200
220
300
300
320
340
350
2
3
3
4
5
5
6
7
8
15
20
20
30
30
90
90
90
90
| | |
| --- | --- |
| Machine Type | Unit |
| Clamping Force | tons |
| Opening Force | tons |
| Platen Size | mm |
| Distance Between Tie Bare | mm |
| Min. Mold Height | mm |
| Opening Stroke | mm |
| Max. Open Daylight | mm |
| Ejector Force | tons |
| Ejector Stroke | mm |
| | | | | | | | | |
| --- | --- | --- | --- | --- | --- | --- | --- | --- |
| KT-100-R | KT-200-R | KT-300-R | KT-400-R | KT-500-R | KT-600R | KT-700R | KT-800R | KT-900R |
| 15 | 45 | 55 | 85 | 120 | 160 | 200 | 250 | 300 |
| 7 | 8.3 | 13.5 | 10.5 | 15 | 20 | 26 | 28 | 34 |
| Ø580 | Ø740 | Ø880 | Ø1000 | Ø1200 | Ø1400 | Ø1600 | Ø1800 | Ø1900 |
| - | - | - | - | - | - | - | - | - |
| 125 | 200/150 | 200/150 | 250/200 | 250/200 | 310/250 | 360/300 | 410/350 | 460/400 |
| 140 | 200 | 200 | 250 | 250 | 350 | 350 | 400 | 500 |
| 265 | 400/350 | 400/350 | 500/450 | 500/450 | 660/600 | 710/650 | 810/750 | 960/900 |
| 1.3 | 1.3 | 1.3 | 2.1 | 4.8 | 5.2 | 5.2 | 6.8 | 8.5 |
| 50 | 50 | 50 | 75 | 75 | 95 | 150 | 200 | 250 |
| | |
| --- | --- |
| Machine Type | Unit |
| Slide Stroke | mm |
| Rotary Station | - |
| Max. Mold Weight | kg |
| Station Accuracy | mm |
| | | | | | | | | |
| --- | --- | --- | --- | --- | --- | --- | --- | --- |
| KT-100-R | KT-200-R | KT-300-R | KT-400-R | KT-500-R | KT-600R | KT-700R | KT-800R | KT-900R |
| - | - | - | - | - | - | - | - | - |
| 2-3 | 2-4 | 2-4 | 2-4 | 2-4 | 2-3 | 2-4 | 2-4 | 2-4 |
| 60x2/40x3 | 90x2/80x3 | 90x2/80x3 | 150x2/100x3 | 225x2/150x3 | 450x2/300x3 | 750x2/500x3 | 1050x2/700x3 | 1200x2/800x3 |
| ±0.02 | ±0.02 | ±0.02 | ±0.02 | ±0.02 | ±0.02 | ±0.02 | ±0.02 | ±0.02 |
| | |
| --- | --- |
| Machine Type | Unit |
| Max. Hydraulic Pressure | kg/cm2 |
| Pump Output | liters/min |
| Oil Reservoir Capacity | liters |
| Cooling Water Consumption | liters/hr |
| Pump Motor Power | kw |
| Barrel Heating Power | kw |
| Total Wattage | kw |
| | | | | | | | | |
| --- | --- | --- | --- | --- | --- | --- | --- | --- |
| KT-100-R | KT-200-R | KT-300-R | KT-400-R | KT-500-R | KT-600R | KT-700R | KT-800R | KT-900R |
| 140 | 140 | 140 | 140 | 140 | 175 | 175 | 175 | 175 |
| 26 | 43-17 | 56-10 | 95-17 | 114-19 | 125-19 | 136-19 | 153-19 | 184-19 |
| 100 | 130 | 150 | 400 | 450 | 550 | 620 | 720 | 800 |
| 400-600 | 600-800 | 800-1000 | 1200-1500 | 1500-1800 | 1800-2000 | 2000-2200 | 2000-2200 | 2000-2200 |
| 3.5 | 7.5 | 11 | 14.7 | 18.4 | 22 | 30 | 37.3 | 55 |
| 2 | 3.5 | 4.5 | 5.6 | 7.5 | 14.3 | 17 | 18 | 23 |
| 5.5 | 11 | 15.5 | 20.3 | 25.9 | 36.3 | 47 | 55.3 | 78 |
| | |
| --- | --- |
| Machine Type | Unit |
| Machine Weight | tons |
| Machine Dimensions(L x W x H) | m |
| Shipping Weight | tons |
| Shipping Measurements(L x W x H) | m |
| | | | | | | | | |
| --- | --- | --- | --- | --- | --- | --- | --- | --- |
| KT-100-R | KT-200-R | KT-300-R | KT-400-R | KT-500-R | KT-600R | KT-700R | KT-800R | KT-900R |
| 1.1 | 2.6 | 2.8 | 5.5 | 6.8 | 7.2 | 13.2 | 16 | 18.4 |
| 1.3x1.25x2.37 | 1.98x1.48x3.08 | 2.22x1.89x3.33 | 2.0x1.7x3.2 | 2.7x2x3.33 | 3.3x2.1x4.3 | 3.4x2.2x4.5 | 3.6x2.1x4.8 | 4.3x2.2x5.7 |
| 1.4 | 3.1 | 3.2 | 6.2 | 7.5 | 8.0 | 14.4 | 17 | 19.6 |
| 1.7x1.4x2.3 | 2.1x1.6x2.3 | 2.4x2.2x2.6 | 2.3x2x1.8 | 2.9x2.2x1.9 | 3.5x2.3x2 | 3.6x2.3x2.2 | 4.0x2.3x2.3 | 4.6x2.3x2.4 |