KET Series (STANDARD) (KET Series (STANDARD))
KET Series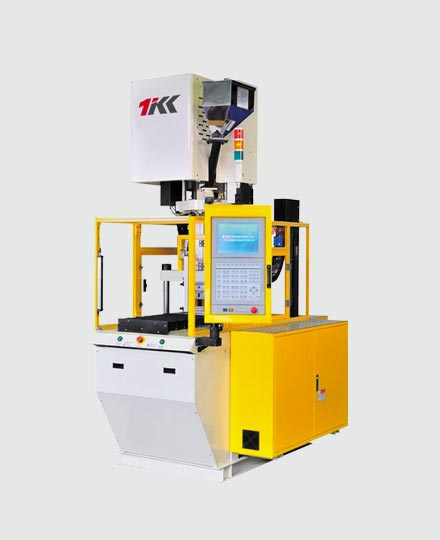 Features
KET series all-electric vertical injection molding machines have the following features:
Low Noise:
All process-relevant movements (injection, mold open/close) are executed via electric motors, resulting in quieter and less noisy operation.
High Efficacy:
The electric unit is digitally controlled so that the mechanical operation is highly repeatable and precise, and the electrical drive enables the parallel movement of the machine, so the process is faster and more efficient.
Save Water:
Fewer components and oil need to be preheated than hydraulic injection machines, thus saving on cooling water usage.
Power Green Energy:
No hydraulic system is used, and energy is only used during machine movement, so it can save more energy and achieve power green energy.
End Products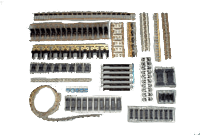 KET-40
Specifications

| | |
| --- | --- |
| Machine Type | Unit |
| Screw Diameter | mm |
| Injection Pressure | kg/cm2 |
| Theoretical Shot Volume | cm3 |
| Max. Shot Weight(PS) | g |
| Injection Speed(High Loading Capacity) | mm/sec |
| Injection Speed(High Velocity) | mm/sec |
| Screw Stroke | mm |
| Screw Speed Max. | rpm |
| Nozzle Contact Force | tons |
| Nozzle Retraction Stroke | mm |
| Number of Temperature Control | - |
| Material Hopper Capacity | | |
KET-40
KET-70
KET100
20
25
25
30
30
35
2500
1600
2500
1736
2500
1836
31
49
59
85
99
135
29
45
54
77
90
123
200
200
200
270
270
270
100
120
140
350
350
350
2
2.4
2.6
200
250
280
3
3
4
20
20
30
| | |
| --- | --- |
| Machine Type | Unit |
| Clamping Force | tons |
| Dimensions of Rotary Table | mm |
| Mold Thickness | mm |
| Opening Stroke | mm |
| Ejector Force | tons |
| Ejector Stroke | mm |
| | | |
| --- | --- | --- |
| KET-40 | KET-70 | KET-100 |
| 40 | 70 | 100 |
| 360*360 | 420*420 | 480*480 |
| 170~270 | 230~350 | 250~400 |
| 210 | 250 | 270 |
| 1.3 | 2.1 | 2.6 |
| 60 | 60 | 60 |
| | |
| --- | --- |
| Machine Type | Unit |
| Heater Capacity | kw |
| Consumption | kw |
| Machine Weight | tons |
| Machine Dimensions(L x W x H) | m |
| | | |
| --- | --- | --- |
| KET-40 | KET-70 | KET-100 |
| 2.7 | 3.5 | 4.5 |
| 14.6(30Ax380V) | 18(50Ax380V) | 20(75Ax380V) |
| 3 | 4 | 7.5 |
| - | - | - |